The European Football Fans Congress (EFFC) has been an important forum for FSE members since 2008. Its purpose is to identify and address fans' most pressing concerns through workshops, panel sessions, and discussions with representatives from European governing bodies and political institutions.
The EFFC coincides with FSE's Biennial General Meeting, which provides members with an opportunity to vote on and influence FSE's aims, objectives, and policies, as well as to approve changes to the Constitution and elect members to the Board.
---
#EFFC23: Manchester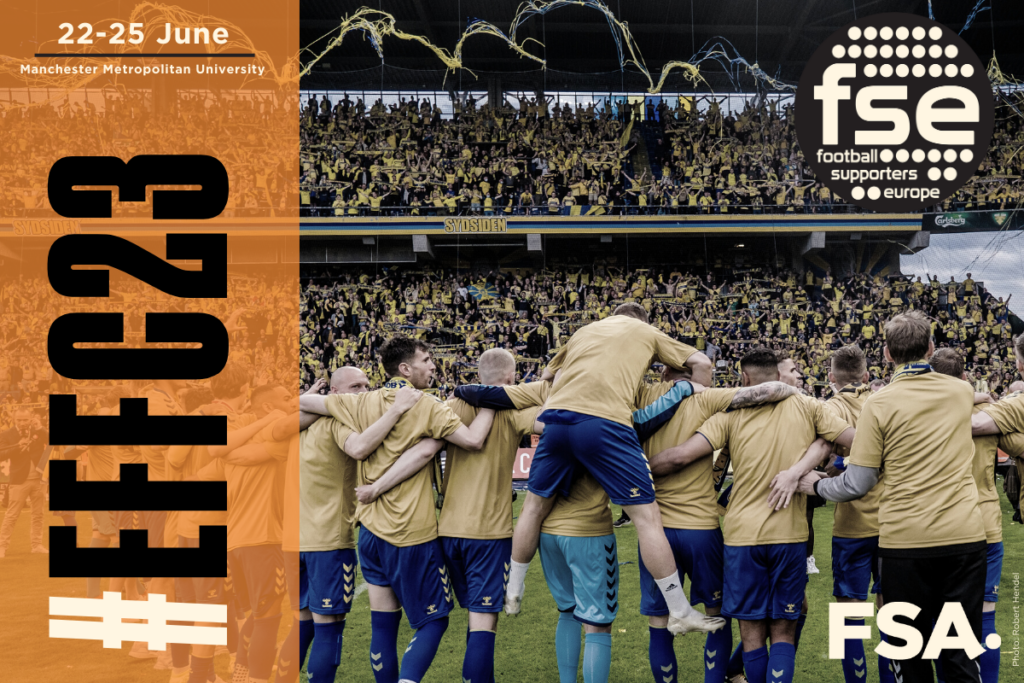 #EFFC23 will take place in Manchester, England, from 22nd to 25th June 2023.
Key information can be found here.
The #EFFC23 programme can be found here.
---
Previous EFFCs
The event was initially arranged on an annual basis, with each one taking place in a different city and organised in collaboration with FSE members local to the area. EFFC 2008 and 2009 took place in London and Hamburg, respectively. Barcelona played host in 2010, Copenhagen in 2011, Istanbul in 2012, Amsterdam in 2013, and Bologna in 2014. EFFC 2015 convened in Belfast, where FSE members opted to switch to a biennial format. Since then, EFFC's have taken place in Ghent and Lokeren in 2017 and Lisbon in 2019.
---
Summer Network Meetings
From 2015, smaller Summer Network Meetings have taken place on alternate years to EFFCs. The first was held in Izmir in 2016, followed by Gijón in 2018 and Aarhus in 2020.
---
Find out more about previous EFFCs on the FSE publications page and YouTube channel.
We will also post updates about future EFFC's on this page.