Supporters from 27 nations attended the 2023 European Football Fans Congress (EFFC23), the biggest programme for EFFC yet, in Manchester, England last month. Football Supporters Europe (FSE) was supported in the organisation of the four-day event by co-hosts the Football Supporters' Association (The FSA), with both organisations also hosting their respective BGM and AGM over the weekend.
EFFC23 was memorable for several reasons. It was the first EFFC to receive an address from a UEFA President in Aleksander Čeferin, while English FA Chair Debbie Hewitt also attended and participated in a Q&A discussion. We were joined by African supporters organisation, Sandlanders, at EFFC for the first time, as well as over 70 national supporters organisations and local fan groups from across Europe. Additional stakeholders included FIFPro Europe, ECA, and European Leagues as well as several national associations, football leagues, and NGOs. On account of the merger with SD Europe last year, it was also the first time SLO network and Fan Ownership & Heritage Protection meetings were held under the FSE banner.  
View the EFFC 23 photo album here.  
EFFC23 Key Numbers
Supporters From 27 nations 
4 Guest Speaker Addresses 
18 Workshops 
4 Expert Panel Sessions
SLO Network Meeting 
Over 20 SLOs and several SLO Coordinators from 12 countries attended a Supporter Liaison Officer (SLO) network meeting at Old Trafford Stadium on the Wednesday and Thursday ahead of FSE. The meeting was the first to take place since before the Covid-19 pandemic, and those in the room discussed the growth and development of the role in recent years and what's next. UEFA was also in attendance and spoke of the importance of its UEFA Academy Training Programme, which is delivered by FSE.
During the first day of the SLO network meeting, the attendees took a moment to remember their colleague and friend Ian Stirling, the Independent SLO of the Manchester United Supporters' Trust, who passed away earlier in the year.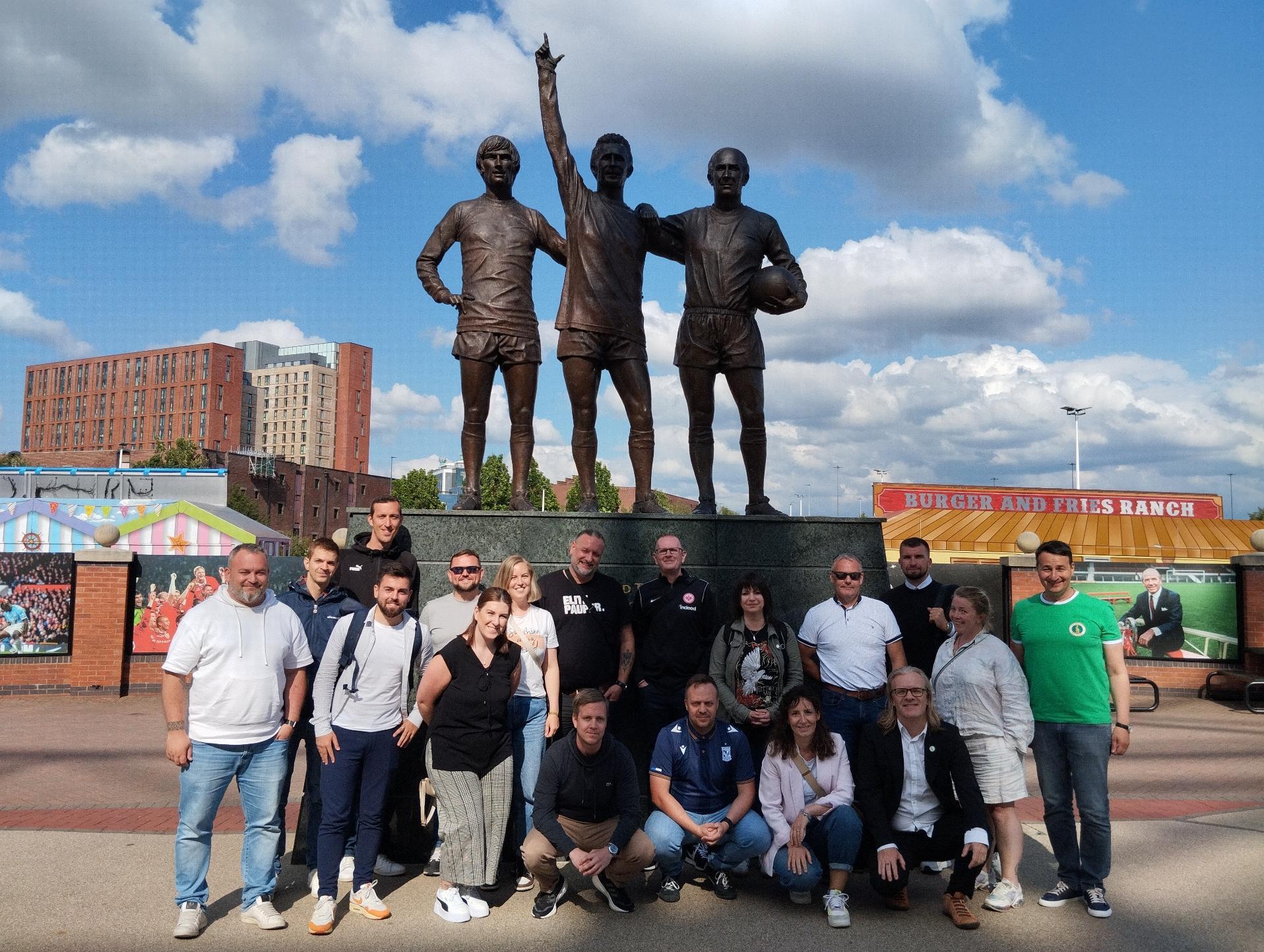 EFFC23: Opening Night
EFFC23 formally kicked-off Thursday evening with an opening night at Manchester's National Football Museum that hosted UEFA President Aleksander Čeferin. It was the first time a UEFA president has attended and addressed the EFFC, demonstrating the greater cooperation between FSE and the European football governing body. The UEFA President spoke about the prospering relationship between UEFA and supporters, and then announced the involvement of fan representatives in UEFA committees through FSE, affirming: "We don't want decisions made about fans, without fans". He also acknowledged that match day experiences can be improved further, adding: "There is still a long way to go. So, let's roll up our sleeves and ensure that attending a football match remains a unique and unforgettable experience for everyone."  
Next, English FA Chair Debbie Hewitt, recently appointed as FIFA Vice-President, participated in a discussion alongside FSE Executive Director Ronan Evain and the FSA CEO Kevin Miles, dissecting what was next for football in England and across Europe.
MEP Tomasz Frankowski, Co-chair of the Sport Group of the EU Parliament, also addressed the event attendees via video to express his endorsement of supporter involvement in decision-making in the game, and the need to protect the European Model of Sport.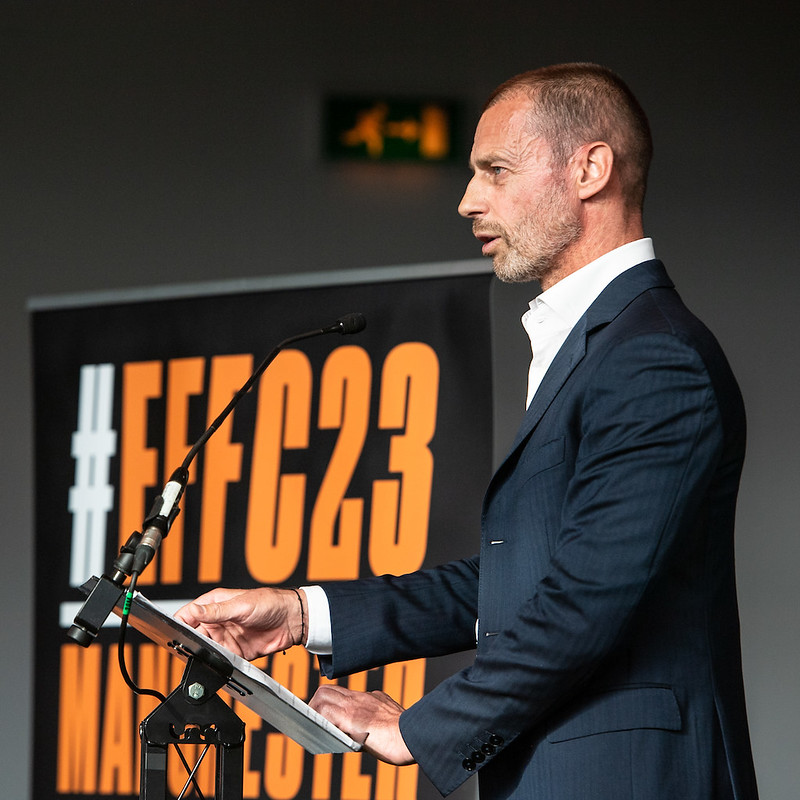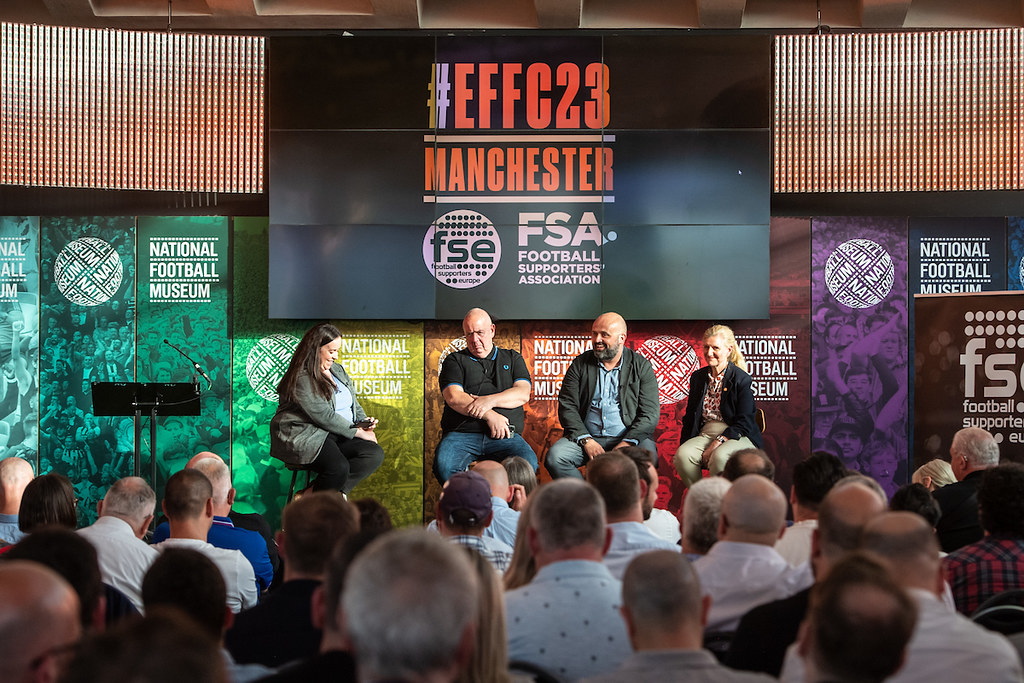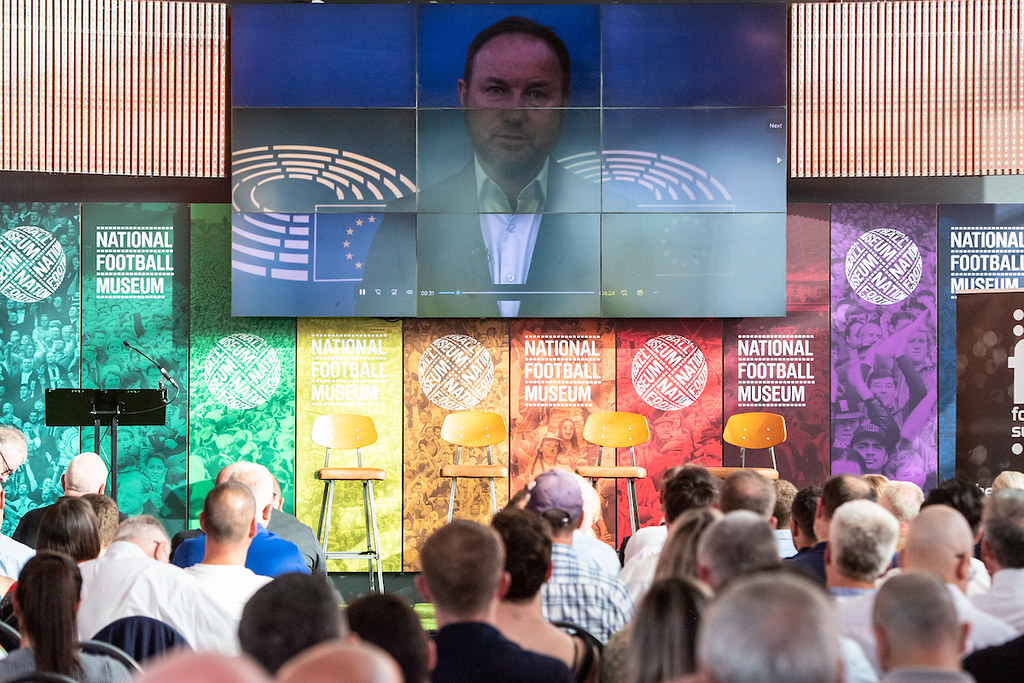 EFFC23: Friday
The traditional EFFC programme got underway at Manchester Metropolitan University on Friday morning, with proceedings opened by FSE Board Member Martha Gens and FSA Chair Malcolm Clarke.
The opening Welcome was followed by a Plenary to showcase the FSA's 'Fans For Diversity' network (a joint initiative with Kick It Out), with discussions focusing on the successes it has enjoyed since its inception.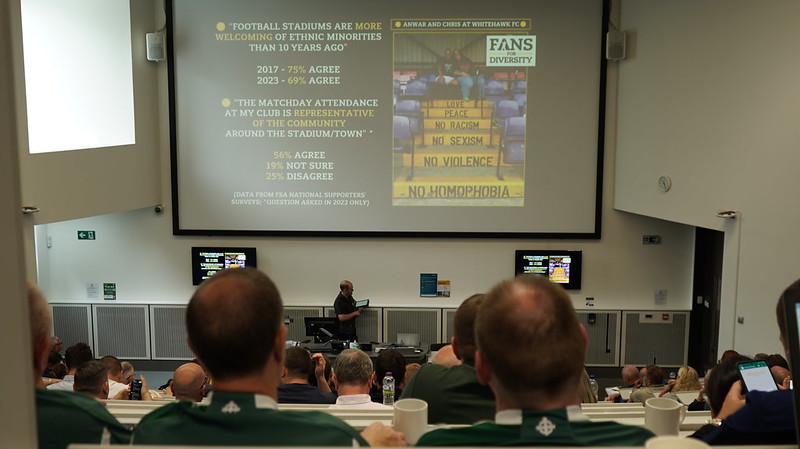 The Plenary was followed by a series of workshops covering a broad variety of key priorities for supporters: 
Fan Ownership & Heritage Protection  
UEFA Club Competitions: Away Fans, Ticketing, Finals & UCLF Paris 2022 
The growth of the Supporter Liaison Officers role 
Broadcasting & Its Impact On Match-Going Fans 
Environmental Sustainability  
Financial Sustainability: Clubs In Crisis 
Next saw former player and pundit Gary Neville on stage in a discussion with journalist Matt Slater about the current state of football governance. On the same theme, this was followed by a plenary session shining a light on activities in England & Wales, with a particular spotlight on the recent Fan-Led Review and the next steps to be taken. The panel saw the FSA and fan representatives sit alongside former UK Government Sports Department Lawyer Chris Anderson. 
The afternoon then played host to a second series of workshops: 
Supporter Engagement & Fan Advisory Boards: Best Practice 
Men's EURO 2024: One Year Until Kick-Off 
VAR: For Better Or For Worse? Featuring PGMOL 
State Club Ownership & Human Rights 
Women Supporters In The Men's Game 
The day came to a close with an address from Greater Manchester Mayor Andy Burnham in which he discussed the current governance of football in England and expressed his support for greater supporter involvement in the running of the game.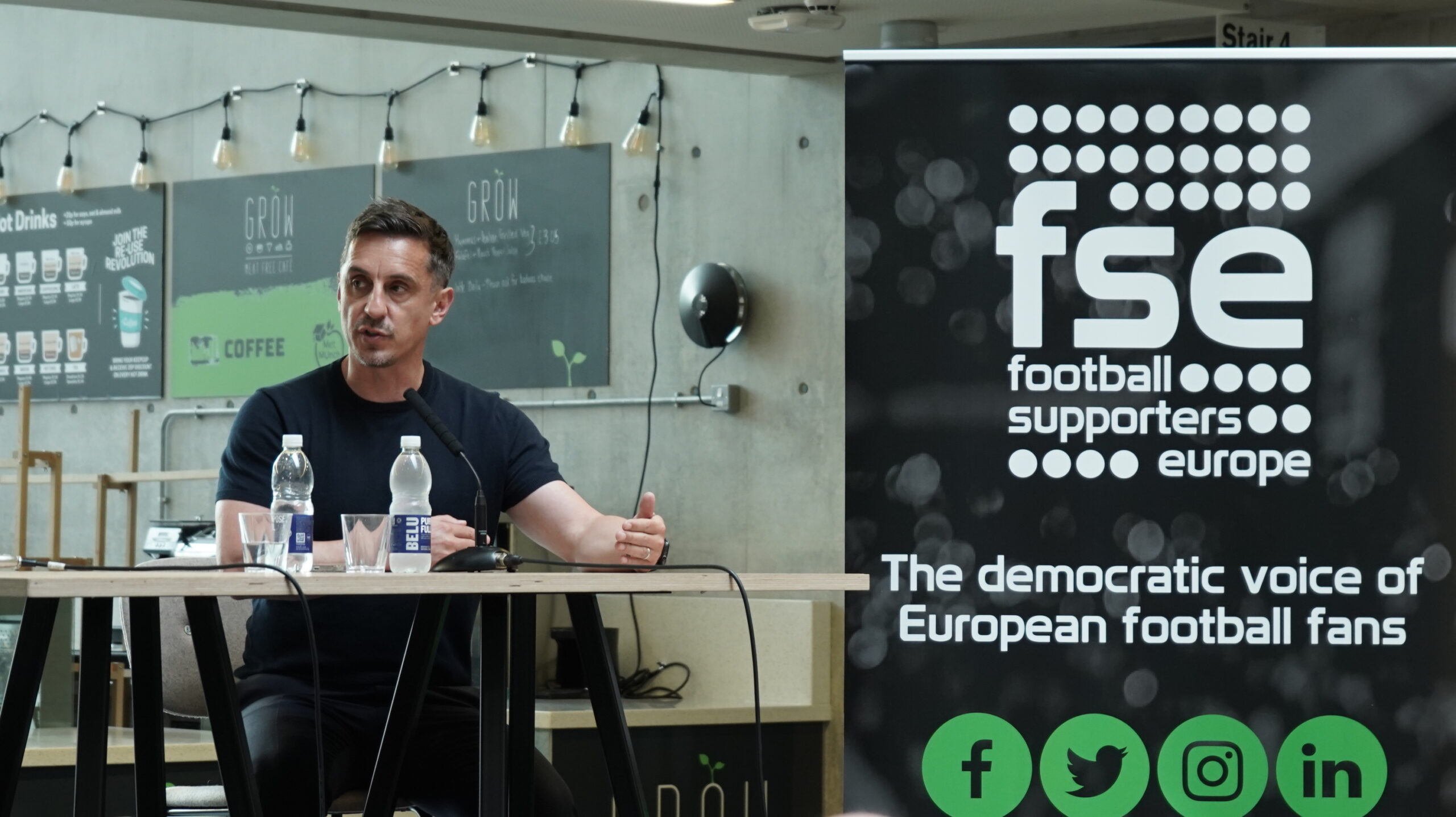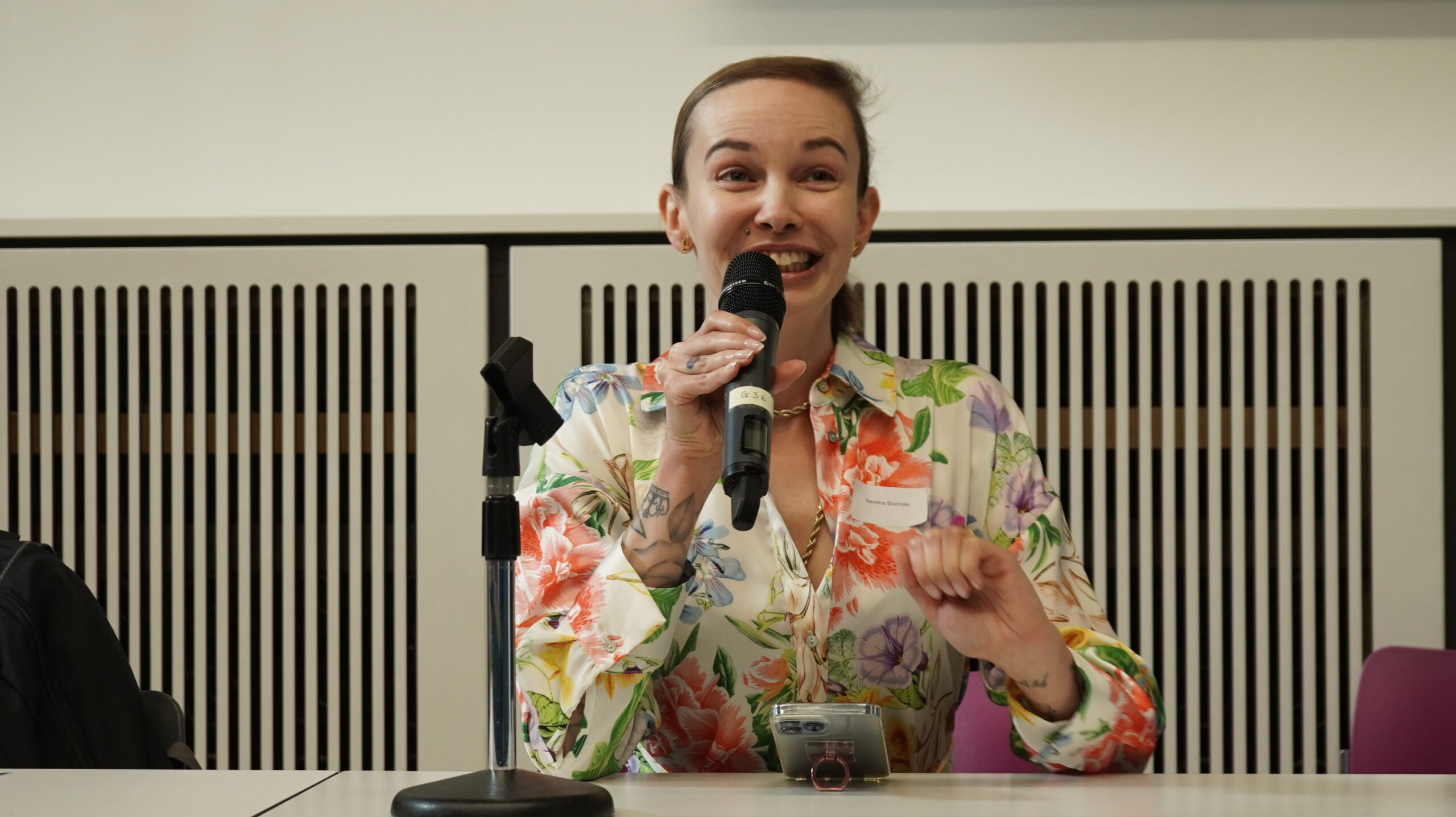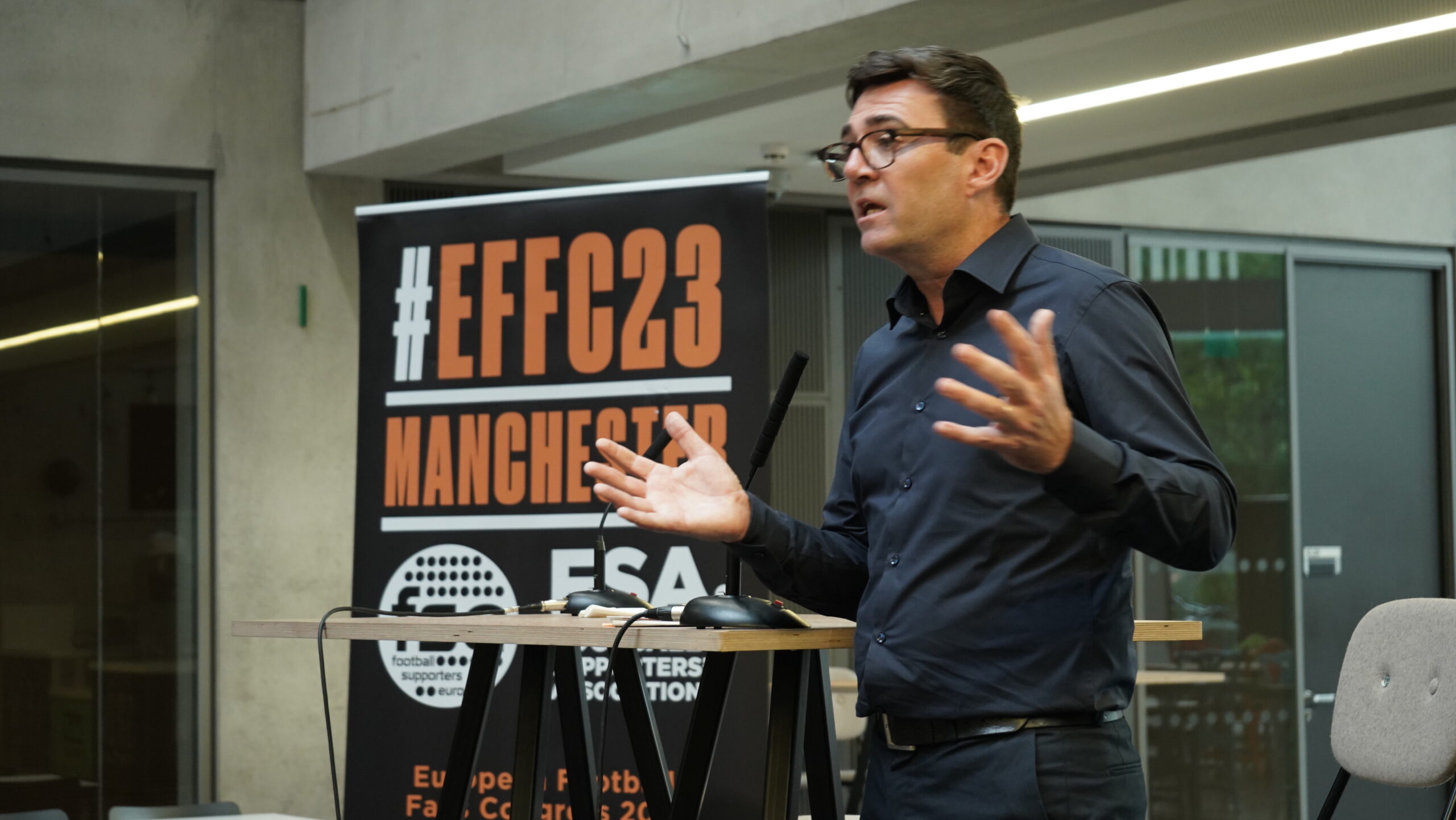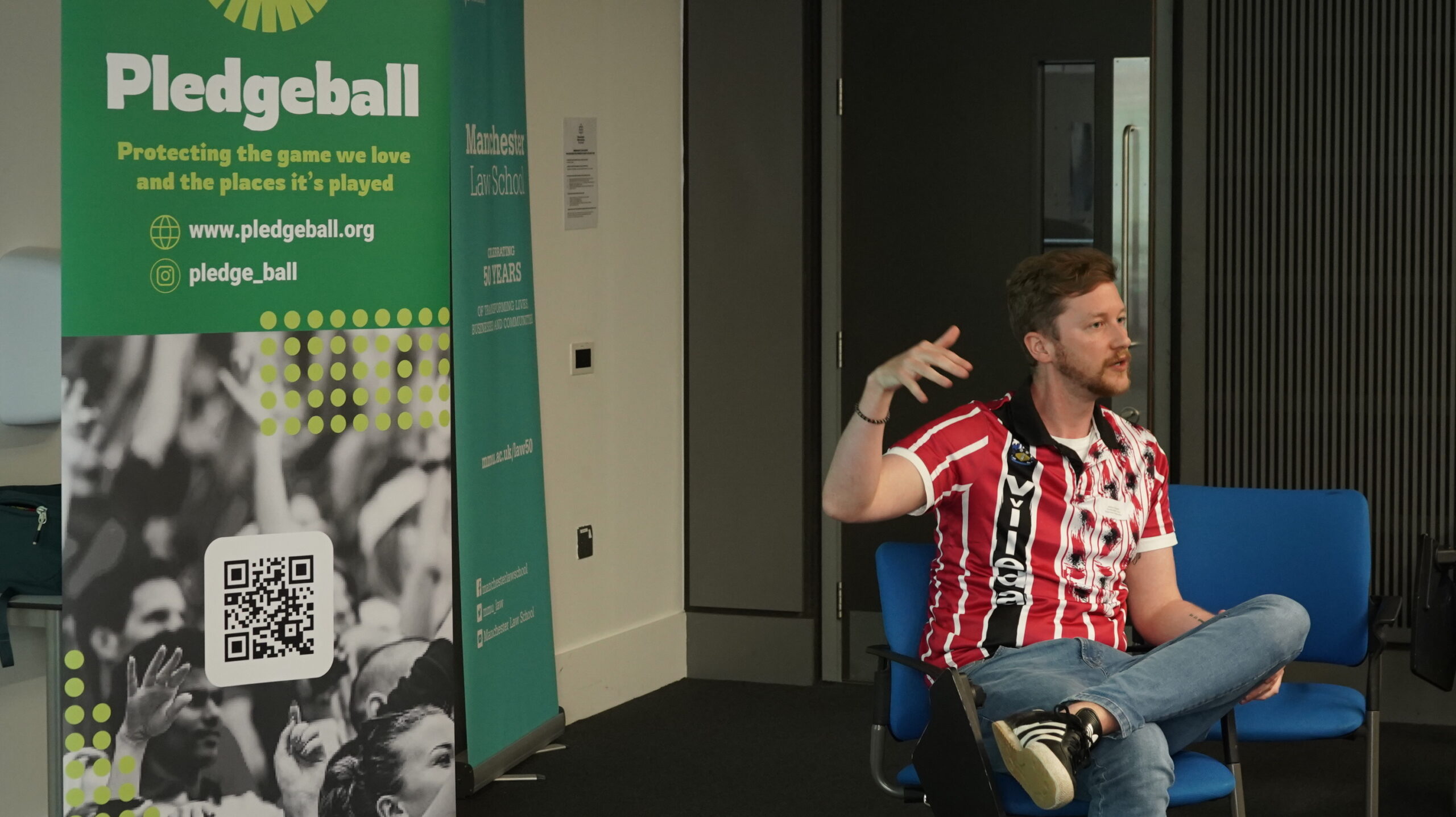 EFFC23: Saturday
Saturday had another packed schedule with both FSE's BGM and the FSA's AGM taking place.
Football Supporters Europe BGM
Kicking off Saturday's schedule was the 2023 FSE BGM. FSE staff summarised the last year of work, having already shared a 2022/23 Activity Report in advance with members, before submitting the organisation's financial report and audit report to the meeting.
The minutes of the BGM will be distributed to members in the coming weeks.
Board Elections
Following the election of a new Elections Committee, members then elected a new Board and team of internal auditors by a secret ballot.
Hüseyin Emre Balli (individual member – Türkiye), Pierre Barthelemy (Association Nationale des Supporters – France), Martha Gens (Associação Portuguesa de Defesa do Adepto – Portugal), Herjan Pullen (Supportersvereniging Ajax Amsterdam – Netherlands), and Gregor Weinreich (individual member – Germany), were all re-elected to the Board. Newcomers Katrina Law (The Football Supporters' Association – England), Joe White (Three Lions Pride/Pride In Football – England) and Trond Larsen (Klanen – Norway) were all elected to the Board.
Meanwhile, Paul Corkrey (Fans' Embassy Wales – Wales) was appointed as the On-Topic Division Board member for Fans' Embassies, while Sofia Bohlin (SLO), Alan Russell (Fan Ownership & Heritage Protection), and Mark Doidge (Anti-Discrimination), remain in place as Heads of On-Topic for their respective divisions.
The BGM saw long-standing FSE Board members Kevin Miles (The Football Supporters' Association) not seek re-election and Michael Gabriel (KOS) stand down from his position as On-Topic Division head for Fans' Embassies, having been involved with the organisation since its earliest days.
FSE would like to place on record its sincere thanks to both Kevin and Michael who have both contributed immeasurable dedication to FSE and the European supporters' movement over the years.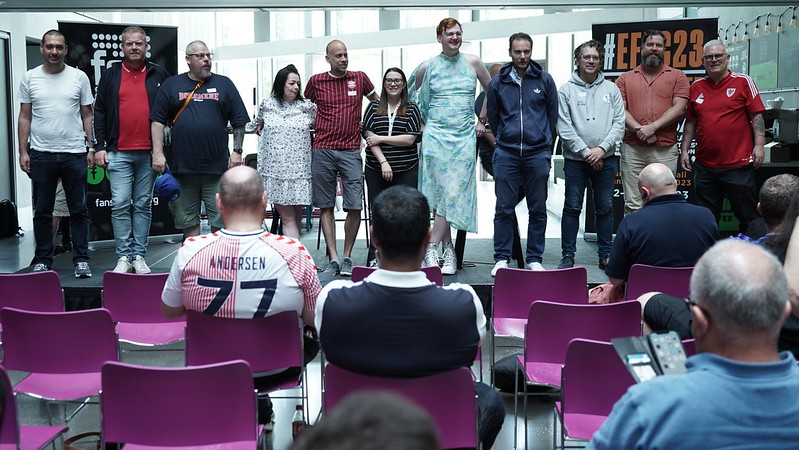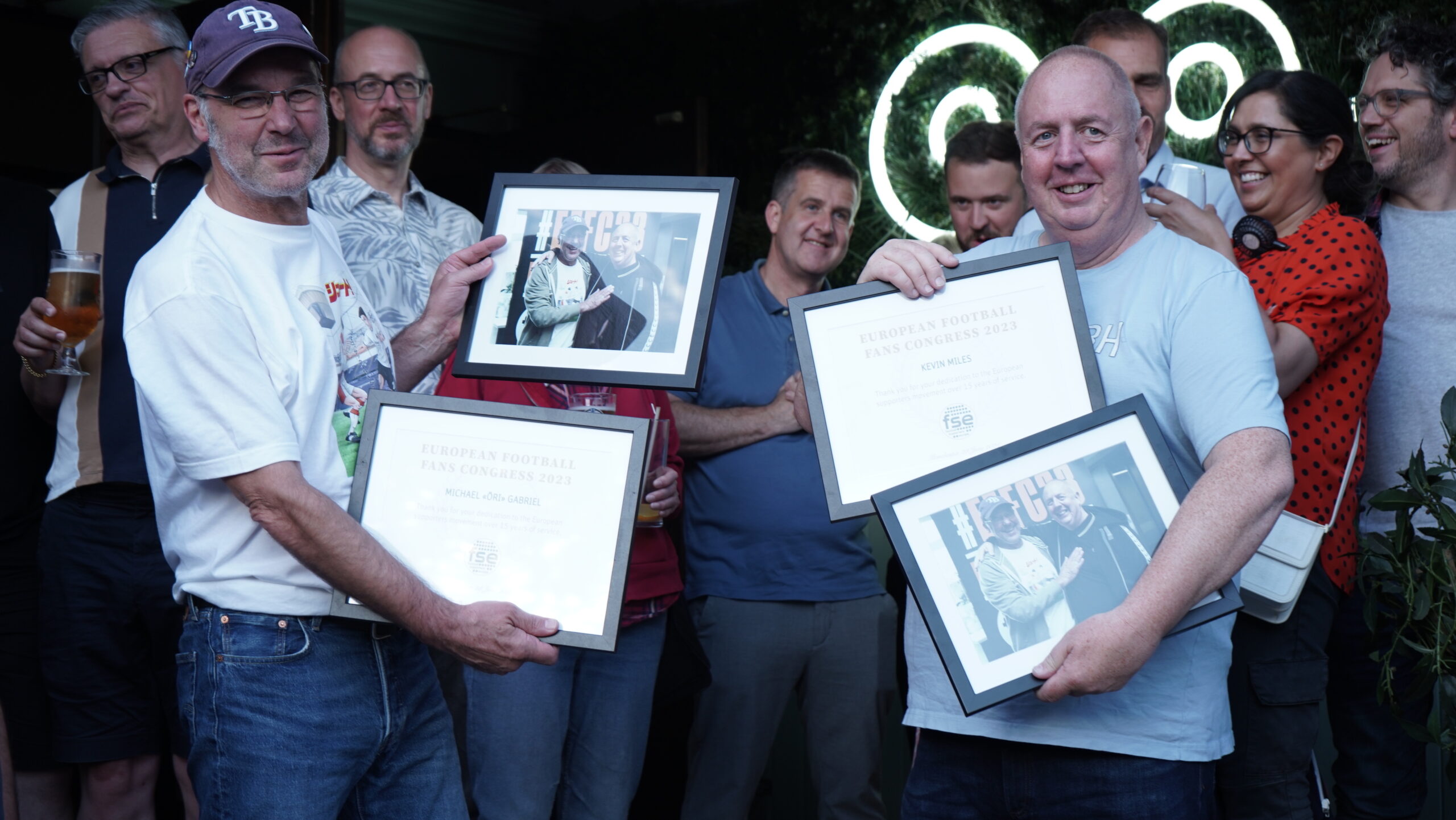 Motions
During the BGM, FSE members debated, voted on and adopted three new motions. 
---
Motion 1 – Inclusion and Accessibility
Proposed by: Ted Morris, Liverpool Disabled Supporters Association (LDSA)
For FSE, in collaboration with disabled supporters, to develop a policy for disabled supporters that will address the inequality disabled supporters experience throughout European football.  
This policy to include travel, ticketing, accessibility, sight lines and a commitment to make football more inclusive for disabled supporters in all UEFA countries. 
Motion 2 – Improving the Arrangements for Fans at UEFA European Finals 
Proposed by: Tim Payton, Arsenal Supporter Trust, Sue Watson of West Ham United Supporters Kevin Parker of Manchester City Football Club Supporters Club (1949) 
Congress notes: 
– the progress that has been made by FSE in working with UEFA to improve arrangements for supporters at the final matches of the UEFA competitions 
– that the allocations provided in 2023 still resulted in many supporters of the clubs involved being unable to attend the games, with particular problems following the staging of the Europa Conference final in Prague.  
– that the overall matchday travel, arrival and in-stadium experience as reported by fans attending the final in Istanbul was well below the standards that should be provided 
Congress calls on the FSE Executive to continue to work with UEFA, its relevant committees and other stakeholders to secure improvements to the arrangements for supporters at the finals of European competitions, including: 
– consulting FSE on the bidding requirements as well as asking FSE for an assessment of the stadiums to be chosen to host the respective finals 
– staging finals in large stadia with good public transport links 
– securing a policy decision that at least 66% of the stadium capacity is made available to supporters of the two competing teams  
– making sure that the venues selected have good quality accessibility provision for people with disabilities 
Motion 3 – Motion 'Strengthening the network function of FSE'
Proposed by: Unsere Kurve and FASFE
The formation of a European network of football fans is one of the central tasks of FSE. However, apart from the annual summer meetings (congress and network meeting), which always set free a lot of productive energy, there are only few opportunities, especially for ordinary or new members, to network or exchange within the FSE family during the year.
In order to improve this, the current working group will continue to explore opportunities to connect people of our membership using available recourses.
In addition, the possibility of setting up a technical solution through which interested members can exchange views on current topics, ask for and offer information and contribute to discussions is to be examined.
The signatories of this motion are willing to actively contribute to this. 
---
Following the BGM, the EFFC heard from UK Sports Minister Stuart Andrew in a speech during which he highlighted the key role of fans in the football governance reforms. He also provided an update on the future of women's football review in England and the EURO 2028 UK and Ireland bid.
Next on the agenda was a plenary discussion on Multi-Club Ownership (MCO), a phenomenon that is increasingly concerning many supporters across Europe, with journalist Steve Menary, Vincent Chutet-Mezence & Sébastien Bernard (Tribune Rino Della Negra – Red Star FC supporters group), Carsten Sloth (Brøndby IF Fan Department), and Niamh O'Mahony (Chief Operating Officer & Head of Governance, FSE). The discussion led to a number of conclusions, including that any benefit of MCO structures often only benefit one club within the particular group, while negative effects impact the majority of the clubs involved.  
Saturday concluded with a number of FSE network sessions, including:  
Fans' Embassies: A strong showing of Fan Embassy representatives were in Manchester to hear about the latest developments across the network, the ongoing recruitment process for a new National Team Fans Coordinator, as well as early preparations for EURO2028.
National Supporters Organisations: Legacy of the "Kick-Off!" Erasmus+ project: the meeting saw NSOs join the partners of the Kick-Off! Project as they presented their outcomes on working towards greater cooperation, including the signing of formal agreements, between supporters and National Associations in their respective countries. 
EFFC23: Sunday 
Sunday was the dedicated Women's Football Day at EFFC23.
Following on from a networking session to encourage attendees to get to know each other's experiences watching the women's game, a panel discussion explored 'what's next for women's football' between the World Cup in Australia & New Zealand and the Euros in 2025.
Hosted by author and women's football expert Jean Williams, the panel featured Piritta Gurung (SMJK/Pohjoiskaarre), Anika Leslie-Walker (Academic), Daphne Goldschmidt (Hapoel Jerusalem FC), and Luke Cox (Communications Officer, FSE). The discussion and questions fielded from the audience covered the growth of fan culture, research into ethnically diverse fans' experiences, and investment into the women's game and specifically for football clubs.
In the next session, the FSE team took the opportunity to provide attendees an update on the progress of creating an FSE policy specific to the development, protection, and enhancement of fan culture within the women's game. Following on from FSE's Her.Story: Celebrating Women's Football & Fan Culture event last year, an initial framework has been drafted and will be the focus for further stakeholder consultation in the coming weeks before the policy itself is finalised in the Autumn.
Running alongside this session, the FSA's held a workshop on to the step advised in formalising and establishing new supporter clubs or groups.
Attendees wrapped up the day by sharing their personal commitment to support the women's game over the coming two years as well as specifying what they expect to see from key stakeholders in the women's game between now and Euro 2025.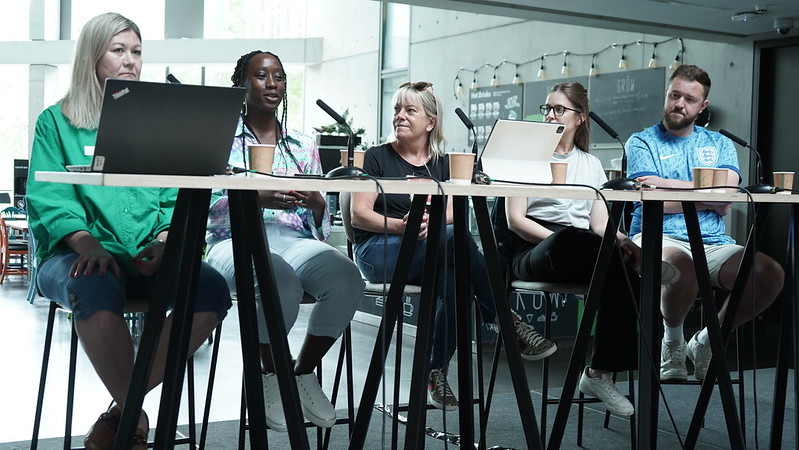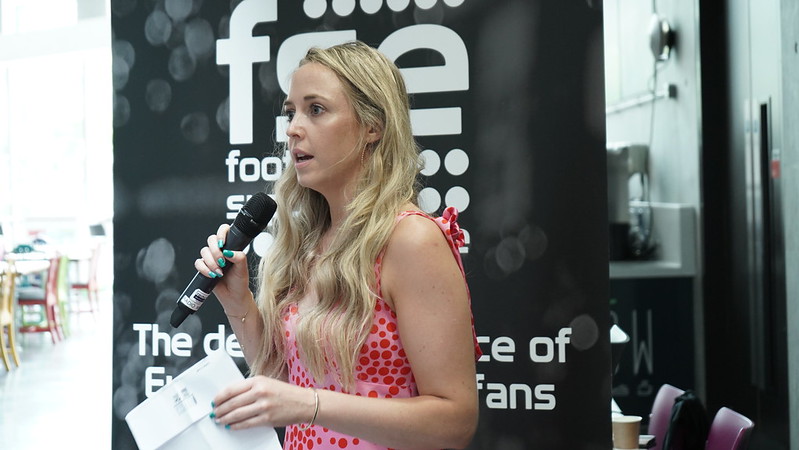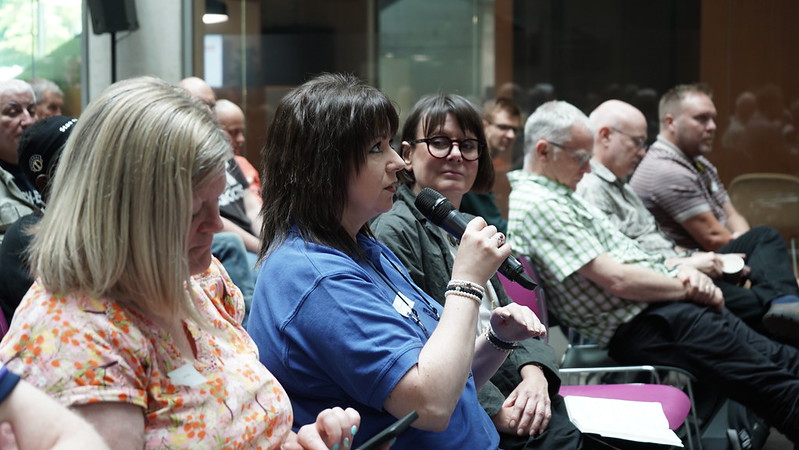 FSE would, once again, like to thank all who attended, volunteered, and contributed to EFFC 2023, making it another successful event packed with fruitful debates and discussions. We'll see you all at EFFC 2025!