FUTURE OF FOOTBALL
Football Supporters Europe launched the Erasmus+ project "Future of Football" in Summer 2023. The project focuses on increasing the number of young people involved in democratic structures within supporters' organisations and football clubs. 
It will run until Autumn of 2025, and involves supporter organisations and partners from 5 EU countries, England & Wales, and Africa, through the continental fans organisation Sandlanders.  
The core project group will work with younger supporters from England & Wales, Germany, Norway, Spain and Sweden to create a series of toolkits and training materials that will then be delivered at selected clubs within each country.  
The activity will be supported by research and insight gathered by the Netherlands' only independent sports research entity, Mulier Institute, which will also deliver tailored analysis for each partner country. A series of national and European youth forums will reinforce the research, learnings, and impact.  
Following the project's launch, FSE Executive Director Ronan Evain said: "At a time when supporters' voices need to be included more than ever by football's key stakeholders, it is vital to ensure the priorities of the next generation of active supporters are a part of the conversation too. 

"Working with the project partners and our FSE membership, this project will pave the way to establish the foundations for lasting structures of influence for younger supporters at national and European level." 
Future of Football Partners: 
FSA, England & Wales;  
FSE and Unsere Kurve, Germany 
Norsk Supportersallianse, Norway 
FASFE, Spain 
SFSU, Sweden 
Sandlanders, Africa 
Mulier Institute, Netherlands 
For further information on Future of Football, email: info@fanseurope.org.
---
Project News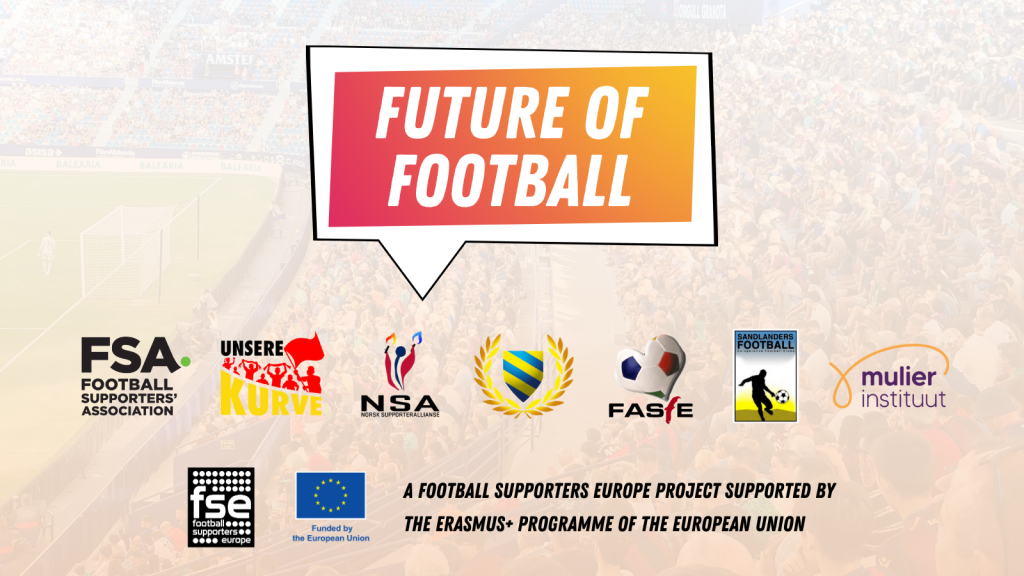 Future of Football Launches
Football Supporters Europe (FSE) is excited to announce the beginning of a new Erasmus+ project that will focus on increasing the number of young people involved in democratic structures within supporters' organisations and football clubs. Read more